home yachts other ships marinas news contact
MY Kay (ex Vladimir Chivilikhin or Wladimir Sziwilichin) - Stocznia Gdynia S.A. / conversion: Arista Marine Group - 122,00 m - 1990 / 2012
2012 might see a surprising entry in the top 20 of the largest motor yachts. A spectacular 122 meter conversion project is under construction in Split, Croatia: Built by the Gdynia Shipyard in Poland as a personnel carrier for the Russian offshore industry, VLADIMIR CHIVILIKHIN was delivered in 1990 and was in service until 1998. The 4,350 HP vessel has a gross tonnage of 4,575 tons. Renamed KAY, the ship was brought to Asia for a conversion at the Keppel Shipyard in Singapore, to a design by Robert McFarlane. This was however cancelled, and in 2007 KAY was brought to Vranjic near Split where she was laid up for more than three years. Subsequently, in March 2011 she was dry-docked at the Brodotrogir shipyard in Trogir and is now moored in the North Port of Split where the conversion work is being carried out by the Arista Marine Group under the project name AMG 120. Among the yacht's features will be a pool and a helipad situated on the sun deck.
BACK TO LIST For all inquiries and high res photos please send me an E-MAIL.
Photos by Ivan Tadej (December 2011):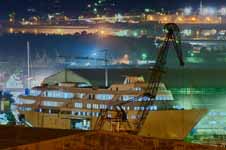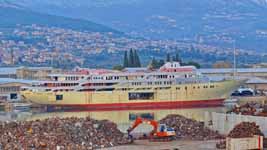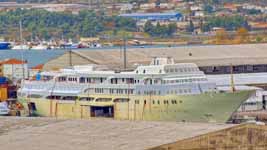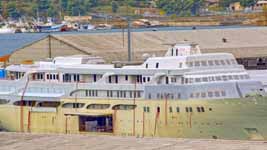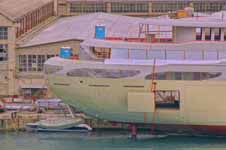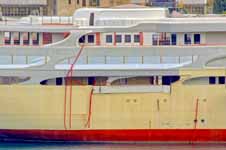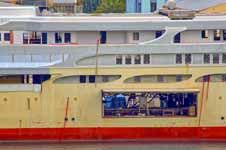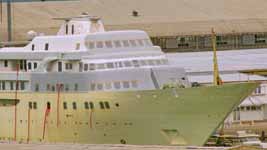 All photographs are © SEYFFERTH ART and may not be used or reproduced in any way without expressed prior written consent, all rights reserved.